List of Croma Upcoming Sales in 2023. Get up to 80% Discount on Electronics Products in the Next Croma Sales, Check Croma Next sales, Offers, and Dates, and Get Croma Deals Update.
Are you looking for the best deals on electronics?
Then you should check Croma Sales as it offers up to 80% Discount on Electronics items.
In this article, We have shared:
Live Croma Sales
Today and the Latest Offers
Upcoming Sales Date & Offers
Product Category-wise Deals
Relevant Store's upcoming sales
This page will help you grab the best deals and discounts on Croma.
Croma also offers a special student for the student, Users can avail of a Croma student discount and avail up to 40% off on laptops, Phones, and other Electronics Items.
Avail up to 40% off on laptops, Phones, and other Electronics Items.
Summary for Croma Online sales:
| | |
| --- | --- |
| Sale Type | Upcoming sale on Croma |
| No. of Upcoming Sales | 10 Sales |
| Key Details | Expected Date and Offers |
| Maximum Discount | Up To 85% Discount |
| Latest Croma Offer | Live Sale and Discount |
| Extra Best Offer | Croma Today Offers |
Use Code and Shopping on Sale Days
LIVE: Croma Sale Today Offers
Croma's most verified and latest coupon code is checked out and avail on Fast.

-60%
Live Now Grab the Deal
Get up to 60% OFF on Branded Laptops, tablets, speakers, and headphones on Croma.
Flat 500 off on Product value of 10K & above
Flat 3% off on select Laptops (applicable on 50K & above, n/a on Apple Brand)
Additionally, With Croma Back on Campus and PlayOFF, sales get ICICI bank credit card Offers.
Get 10% OFF Up to Rs 2000 Instant Discount* On Non-EMI TXN
Get 10% OFF Up to Rs 2500 Instant Discount* On EMI TXN
Grab the best deal
Croma Online Sales 2023

-70%
Get Huge discount prices and HDFC Bank Offers.
Get OFF on all categories of electronics products, and also get an HDFC bank discount of up to 7.5%.

-70%
Find the best deal that makes you smile
Everything on Croma At Lowest Prices. Check out and Shop Now

-49%
Get Discount on Huge Electronic Products.
On Croma deal of the day to get up to 50% OFF.
Croma Weekly Bank and Wallet Offers:
Get the Extra offers and save extra on Croma.
| | |
| --- | --- |
| BANK Name | Instant Offers |
| IDFC BANK | 10% up to Rs 2000 Cashback on Credit Card |
| ICICI Bank | 10% up to Rs 1000 on Credit/Debit Card |
| AU Bank | 5% Up to Rs 2000 |
| Yes Bank | 10% up to 2000 Instant Discount |
Check the quick deals and offers.
Croma Offers Different Categories
| Category | Details | Offers |
| --- | --- | --- |
| Mobile Offers | 10-20% Off on all Smartphones | Buy Now |
| TV Offers | Get up to 60% Off on Top Brands | Buy Now |
| Laptop Offers | 20-40% Off on all laptops | Buy Now |
| Audio Offers | Get up to 70% Off on your favorite earphones | Buy Now |
| AC Offers | Avail of 12 Months of no-cost EMI | Buy Now |
| Refrigerator Offers | Up To 30% Off on various brands | Buy Now |
| Washing Machine Offers | 20-40% Off Fully Automatic Washing Machines | Buy Now |
| Kitchen Appliances Offers | Up To 60% Off on Appliances and Cookware | Buy Now |
| Grooming Offers | 10-20% Off on products | Buy Now |
| Tablet Offers | Avail of credit/debit card offers | Buy Now |
| Wearables Offers | Up To 60% Off on Smartwatches | Buy Now |
| Cameras Offers | Cameras Offer | Buy Now |
| Accessories Offers | Up To 75% Off on all products | Buy Now |
| Gaming Offers | Headphones and earphones start @ Rs. 1199 | Buy Now |
| Consumables Offers | Save up to 80% on all products | Buy Now |
Note Date and Discount
Croma Next Sales Date and Discount 2023
Check out the Croma upcoming or next sales dates with their offers, and save for the latter.
| | | |
| --- | --- | --- |
| Croma sales 2023 | Expected Time | Special Offers (20% to 80%) |
| Croma New Year Sale | January-February | Best Electronic Offers |
| Croma Republic Day Offers Sale | January | Flat Discounts On Electronics |
| Croma Holi Sale | March | Discount On Kitchen Appliances |
| Croma Summer Sale | April-July | Great Discounts On Acs And Refrigerators |
| Croma Independence Day Offer Sale | August | Flat Discounts On Mobiles And Wearables |
| Croma Navratri Offer Sale | November | Discounts On All Electronics |
| Croma Diwali Sale | October-November | Discounts On Televisions And Refrigerators |
| Croma Christmas Sale | December | Discounts On Grooming And Personal Care |
| Croma Year-End Sale | December | Discounts On Home Appliances |
| Croma Black Friday Sale | Not Fixed | Huge Discount |
Also check:

Croma Upcoming Sales
With Expected Dates and Offers.
15+ Upcoming Sales on Croma 2023
Here are the Croma upcoming sales with their respective details.
Croma Navratri Offer Sale 
To purchase new technological items, people wait till Navratri. Since this hour is regarded as lucky, many individuals make large purchases at this time. At this time, many buy home and kitchen appliances to reduce their astronomical expenditures.
People typically purchase speakers and audio-visual equipment around Navratri. These tools enable individuals to celebrate the occasion with greater fervor and get fantastic savings.
Croma Navratri Offer
Electronic devices are discounted by up to 70%.
Great discounts on refrigerators, washing machines, and other home appliances.
Flat discounts are available on phones, wearables, audio, and video equipment.
The Hindu holiday of Dussehra marks the conclusion of the month-long festival of Navratri. In remembrance of Lord Rama's triumph over Ravana, a festival is held. It also commemorates Goddess Durga's triumph over Mahishasura the demon. this is the Upcoming sale on Croma.
On this day, fireworks and the statue of Ravana are set ablaze to symbolize the destruction of evil. In anticipation of the upcoming major holiday, Diwali, Croma is now offering enormous discounts.
Croma Dussehra Offers
Only users receive the 15% discount on electronics.
Only for you, a 25% discount on headphones.
Croma Diwali sale
10th – 15th October 2023
Everyone looks forward to celebrating and spending time with family during the auspicious and memorable season of Diwali. During this season, people purchase brand-new electric appliances to symbolize prosperity and joy. the Croma Diwali sale also explores the Myntra upcoming sale for maximum discounts.
Branded electric appliances are available for purchase at the finest discounts and with fantastic bank incentives. They take advantage of fantastic reductions by using Croma coupon codes. Large reductions are to be anticipated over this festive season.
Expected Date – 10th – 15th October 2023
Diwali Croma Offers:
Huge savings on computers
Cheapest smartphone – major brands
cheapest prices on refrigerators, TVs, and air conditioners
Small appliances for the kitchen are on sale for gifts.
Croma Christmas Sale at Croma 
December 20th-25th
Christmas is a joyful and charitable season that spreads cheer and pleasure and puts a smile on everyone's face. We frequently give each other wonderful gifts and make an effort to deliver useful electronics and wearables.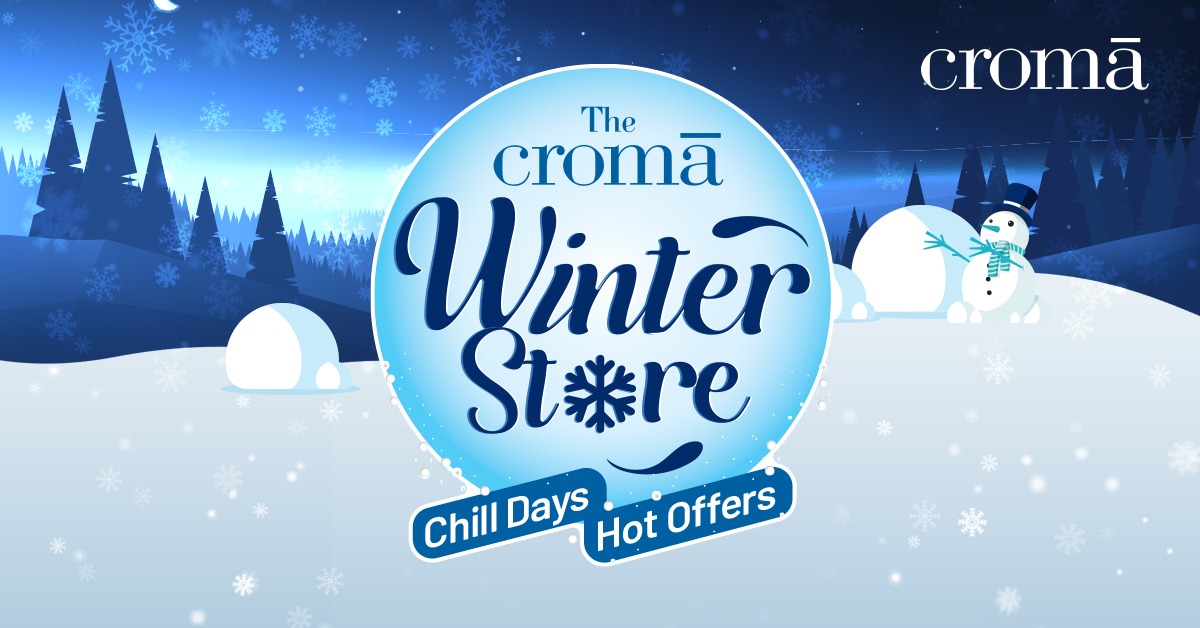 During this time, active wearables, audio, and video devices will all offer sizable cashback and rewards. During this season of giving, there are many things you can anticipate to make you happier.
Expected Date – December 20th-25th 2023
Croma Christmas Offers:
Smartphones are on sale
Discounts on electronic wearables of up to 10%
Cheapest prices on kitchen appliances
Huge savings on grooming and personal care products
Year-End Sales at Croma 
December 25th-29th
You can anticipate fantastic savings when the year comes to a finish and a new one begins. People anticipate the new year, and the year-end sale offers huge savings on electricals. The Croma year-end specials promise significant discounts on electronics and home goods.
One can anticipate being rewarded with fantastic bargains and cashback during Croma's year-end sale, which has a lot to offer. At this time of year, fantastic deals are to be had.
Expected Date – December 25th-29th
Croma Year-End Offers:
Refrigerator discounts of up to 30%
Up to 35% off of high-end smartphones
Air canisters discounted by 35%
massive savings on smart TVs
Black Friday Deals at Croma 
18th November – 27th November
Every year around the end of the year, the Croma Black Friday sale is anticipated to adorn your home with brand-new appliances and technology. During these days, you can plan a comprehensive shopping list.
During the sale, there are flat discounts on smartphones, tablets, and other smart products. The offer typically appears in November or may be scheduled for early January, making electrical appliances for your home incredibly reasonable.
Expected Date – 18th November – 27th November
Black Friday Offers:
Laptops are available for free EMIs and cost between Rs. 30000 and Rs. 35,000.
TVs are available starting at Rs. 30,000.
Starting at Rs. 20,000 for Airpods and Rs. 1,000 for phones
Up to 65% off an air purifier
The bank offers 5% immediate savings and substantial cashback.
There are EMI choices available.
Croma Independence Day Offer Sale 
12th August – 16th August 2023
In Aug there are a lot of live and ongoing sales to honor the freedom to purchase. On these occasions, a large discount is to be anticipated. Every single separate day, Croma provides the best offers on smart devices.
During the Fourth of July, there are significant discounts on tablets, Android devices, and more. Croma upcoming sale 2023.
Expected Date – 12th August – 16th August 2023
Croma Independence Offers:
Smart devices are currently 60% discounted.
Mobile costs are greatly reduced.
Best prices on television and home appliances
You intend to replace all of your broken electronic devices this summer, especially the coolers and air conditioners. You can purchase them from Croma at the most affordable price you can also check out Ajio sales for affordable prices and with an alluring discount.
You can purchase the newest models of air conditioners, refrigerators, fans, and coolers during this deal.
Expected Date – 1st April 2023
Croma Summer Offers:
Kitchen Appliances are discounted by 45% percent.
Fans, coolers, and air conditioners are all discounted by up to 60%.
Huge savings on refrigerators
The most affordable workout and health equipment.
Croma New Year Sale 
January-February
New Year's brings with them fresh anticipation and festivities. In order to mark the beginning of a new year, many individuals purchase new technology and appliances.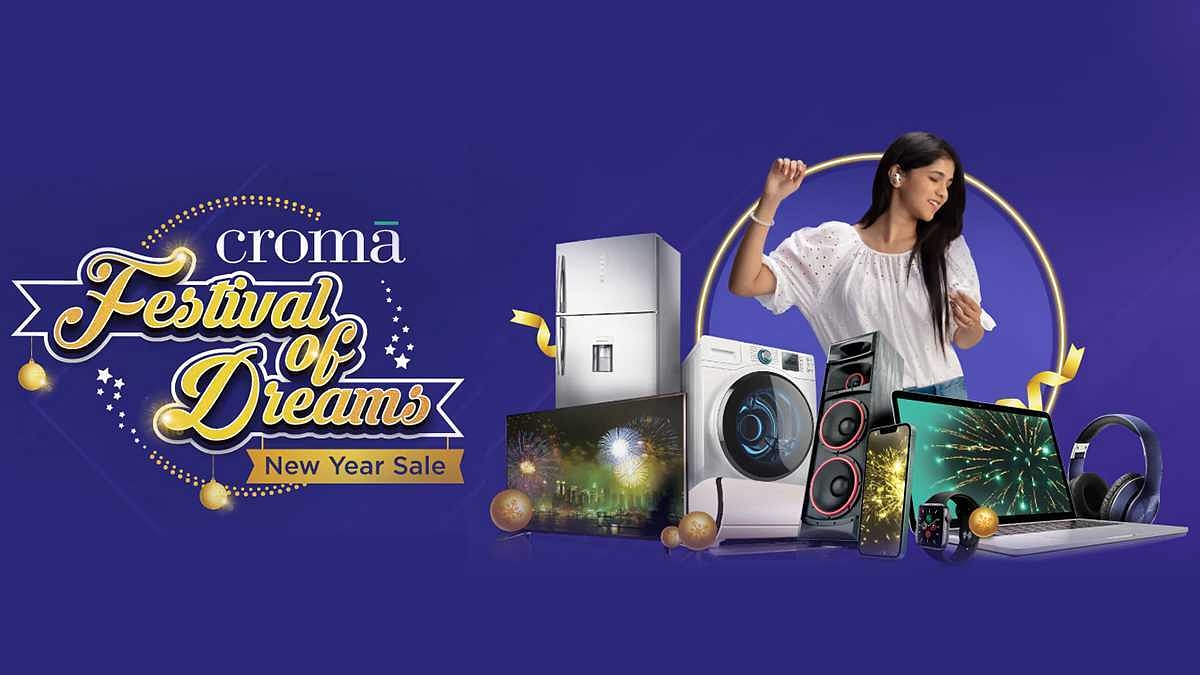 Additionally, new deals and discounts appear everywhere around the new year. Additionally anticipated to be more profitable for its clients is Croma's New Year sale. In Croma, there were three enormous discounts throughout the new year. In Croma, a sizable offer and deal are to be anticipated in the new year.
Expected Time – January-February
Croma New Year Offers
A TV saving of up to 40%
Flat Discounts On Accessories And Smartphones
Discounts of 50% or more on
With larger appliances, smaller appliances are free.
Croma Republic Day Offers Sale 
In January Month
Republic Day honors the privilege of being a citizen of the nation. Every year, Croma offers the option to shop with Croma Republic Day deals. During this time, you can anticipate getting excellent prices with enticing bank offers and cash back.
You simply can't refuse the offers. During the time of this discount deal, you can expect to find cooking, health and fitness, and smart device items at a great price.
Croma Republic Day Offers
All the electrical items are discounted by 60–70%.
Smart device discounts of up to 50%
Amazing discounts on cameras and headphones
Croma Holi Sale 
14th – 20th March 2023.
The nation eagerly anticipates the festival of Holi. People wait for this fortunate occasion to upgrade their electronics by purchasing top-notch kitchens and home appliances.
To make your colorful Holi memorable, expect to find large discounts on household appliances including speakers, headphones, washing machines, etc. During this time, numerous buy one gets one free, and other promotions are to be expected.
Expected Date – 6th – 9th March 2023.
Croma Holi Offer:
Kitchen appliance discounts of up to 60%
Products for personal care are discounted by up to 80%.
washing machines, refrigerators, etc., up to 50% off.
The cheapest and greatest deals on Bluetooth speakers
Croma Valentine's Day Sale
 14th February 2023
While most nations celebrate Valentine's Day, many civilizations have developed their own distinctive customs for this occasion. Valentine's Day is observed in different parts of the world as a day to honor love among friends and family members rather than romantic couples.
Other customs entail gestures of friendship, while others involve leaving lollipops and gifts for children. Valentine's Day is frequently associated with romantic love because millions of cards are sent out on this day each year.
Couples spend precious time together, and flowers or a single red rose are delivered to loved ones with romantic remarks.
Expected Date – 14th February 2023
Croma Valentine's Day Offers;
Users can receive discounts on flowers of up to 10%.
The candy provided for classroom exchanges is discounted by up to 50%.
Date: February 14, 2023.
Consumer Electronic Store
About Croma Store
The Indian retail chain for consumer electronics and durables Croma is The Tata Group subsidiary which Infiniti Retail operates. Its product line includes more than 500 items in the consumer durable and electronics categories.
| Category | Information |
| --- | --- |
| Company Name | Croma Retail |
| Type | Private Limited Company |
| Founded | 2006 |
| Headquarters | Mumbai, India |
| Industry | Retail |
| Products | Consumer electronics, home appliances, entertainment, and more |
| Website | www.croma.com |
| Number of stores | Over 140 stores across India |
| Parent Company | Tata Group |
| Key People | Avijit Mitra (CEO), Ritesh Ghosal (CFO), Ajit Joshi (President) |
In India, Croma was the first of its type large format specialty retail store that catered to all needs for multi-brand electronic devices for the house when it was initially introduced in 2006.
With its tech-savvy personnel, extensive product selection, internet presence, and desire to assist clients, Croma has practically become synonymous with all electronics needs in the more than ten years since its founding. also, launch the Croma upcoming sale every year.
Croma introduced its own label products in 2008 with the goal of continuously delighting customers. Life, More Beautiful is what the Croma brand promises; this promise is based both on how beautiful the products look and how much value they add to the lives of its customers.
For those looking for a high-quality, fully-featured product, the range is ideal.
When thinking about purchasing electronics for the home, Croma holds a unique place in people's minds because it is a brand known for its consumer durables and electrical products under Infiniti Retail and driven by the Tata group.
In order to give your home a full technological makeover, the Croma Upcoming sale 2023 makes sure that you start shopping for your home appliances as well as other electronic and smart devices.
You can schedule your purchases of electrical goods around sale dates and get some amazing electronics and smart devices at the lowest possible prices. To learn about Croma's finest deals on the most anticipated upcoming sales, read the article.
Also check:

Jiomart Upcoming Sales
Why do you sell Croma sale season
Benefits of Croma Upcoming Sales
If we know about the next and upcoming offers, we have enough time to ready ourselves. So if we get to know about Croma's upcoming sales, we can select our desired products, wish to list them, and purchase them with a discount on the next sale.
Knowing about advanced online Croma sales can offer several perks, including:
Better Planning: Knowing about advanced Croma's next sales can help you plan ahead and make informed decisions about when to make purchases. This can help you avoid impulse buys and make the most of the discounts available.
More time to research: By knowing about upcoming sales, you can research the products you want to buy in advance, compare prices across different retailers, and read reviews to make an informed decision.
Exclusive deals: It may offer exclusive Croma deals that are not available to the general public, providing you with an opportunity to get discounts on products that you may not be able to find at other times.
Availability of products: Popular products can sell out quickly during Croma upcoming sales, so knowing about advanced online sales can give you a chance to purchase the products you want before they run out of stock.
Saving money: This can provide you with an opportunity to purchase the products on Croma you want at discounted prices, helping you save money.
Overall, being aware of advanced online sales can help you make more informed decisions, save money, and take advantage of exclusive deals.
Frequently Ask Question
Common Queries – Croma Upcoming & Today Offers
Q1. What are Croma's Upcoming Sales?
Ans. Croma's upcoming sales include Black Friday Sale, Winter Sale, Christmas Sale, New Year Sale, Diwali Sale, and many more. 
Q2. When is the next sale on Croma?
Ans. The next sale on Croma is from 25th Dec which is the Croma Christmas Sale which includes numerous discounts on premium brands.
Q3. Are there any upcoming sales on Croma this month?
Ans. The Black Friday Sale is the upcoming sale starting from 18th November. This November, keep an eye out for a tonne of Black Friday offers on croma.com. Use Croma as your one-stop shop for all your electronics needs, whether you're looking for smartphones, kitchen appliances, or smart devices. 
Croma's Black Friday Deals might help you find the ideal gift in time for the festivities if you're seeking holiday gift suggestions for your loved ones. The Black Friday craze has been invading our homes and the internet for a very long time and with good reason! Many people around the world are still unaware of its significance, even though it continues to cause a stir in the US.
Q4. Where can I get a notification for Croma's next sale?
Ans. You can the notification for upcoming sales from the official website or app of Croma.
Q5. How much discount do you get on upcoming sales?
Ans. You can get the following offers:
Monitors are now up to 40% off. 
Tablets beginning at just Rs. 9990/- 
Dell laptops are currently 30% off. 
Ipad prices start at a little Rs. 40000.
Q6. Should I wait for the next sale?
And. Yes, you can wait for the next sale which is going to start from 18th Nov where you can get all you want at a very reasonable price.
People Also Check

Reliance Digital Upcoming Sales
Final View on Sales
Conclusion – Croma Next Sale Dates and Offers 2023
2008 saw the launch of Croma brand products, which were designed to please customers at every step. The name is Croma is an acronym for "Life More Beautiful," a promise based on the value they offer to their client's lives in addition to the beauty of their physical appearance.
This range is perfect for people looking for a high-quality, feature-rich product at a fair price. In order to safeguard their products from accidents and unintended damages during or beyond the brand warranty period, Croma upcoming sale also encourages customers to purchase Annual Maintenance Plans and Extended Warranties.
Customers who enroll in Croma's Privileges Program are additionally rewarded with cashback and discounts, allowing them to save money and obtain excellent after-sale service.
Members of this program are eligible for loyalty discounts, pre-qualified credit, exchange, and upgrade benefits. Because the prices fluctuate a lot, don't miss out on these sales.