Get updated about the Next and Upcoming Sales on Ajio Store in 2023. Here are complete details of Ajio Upcoming Sales 2023 with their expected dates and offers.
The impending discounts at Ajio in 2023 are designed to attract devoted customers in every manner possible. So start anticipating the sale events now if you're hoping to upgrade your wardrobe with some new, stylish pieces.
The festival seasons last all year round, as we all know. As a result, you could save somewhere between 40% and 70% across all categories. This deal includes a wide range of goods for men, women, and kids, including clothing, footwear, accessories, and other items.
We have listed almost every top store's upcoming sales and offers.
We'll build a list of upcoming Ajio sales in this article. If you missed the bargains from the previous year, don't fret; just make a wishlist and buy when the Ajio Upcoming sales dates appear in 2023.
Short Table Description for Ajio sales:
| | |
| --- | --- |
| Sale Type | Ajio Upcoming Sales |
| No. of Upcoming Sales | 15 Sales and Offer |
| Key Details | Expected Date and Offers |
Notes All dates
Ajio Next Sale Dates and Offers 2023
Ajio Holi sale starts from 6th to 9th March 2023, get up to 60% OFF
| Expected Dates | Upcoming Sale on Ajio 2023 | Ajio Sale Offers 2023 |
| --- | --- | --- |
| 7th to 11th January | Ajio Mania Sale 2023 | UpTo 90% Off |
| 18th to 20th January | Ajio Indie Days 2023 | UpTo 60% Off |
| 22nd to 26th January | Ajio Republic Day Sale 2023 | Upto 50% + Extra 20% Off |
| 3rd to 7th February | Ajio Big Bold Sale 2023 | UpTo 90% Off |
| 10th to 14th February | Ajio Valentines Day Sale | Up to 80% Off |
| 15th to 18th March | Ajio Birthday Bash Sale 2023 | Up to 70% Off |
| 6th to 9th March | Ajio Holi Sale 2023 | Up to 60% Off |
| 13th to 17th April | Ajio Fresh Haul Sale 2023 | UpTo 50% Off |
| 5th to 7th May | Ajio Summer Sale 2023 | UpTo 80% Off |
| 23rd to 26th June | Ajio Fashion Giant Sale 2023 | UpTo 80% Off |
| 1st to 5th July | Ajio Big Bold Sale 2023 | Up to 50% Off |
| 11th August | Ajio Rakhi Sale 2023 | Up to 50% Off |
| 12th to 15th August | Ajio Independence Day Sale 2023 | UpTo 70% Off |
| 20th to 25th September | Ajio Clearance Sale 2023 | UpTo 70% Off |
| 7th to 12th October | Ajio Navratri Sale 2023 | Up to 40% Off To 80% Off |
| 1st to 4th November | Ajio Diwali Sale 2023 | UpTo 80% Off |
| 20th to 25th December | Ajio Christmas Sale 2023 | Get UpTo 75% Off |
| 1st to 5th January | Ajio New Year Sale 2023 | UpTo 80% Off |
A Big E-commerce platform
About Ajio
The business tycoon Mukesh Ambani has released the app Ajio. This app was created as an online purchasing platform that offers the assurance and trust of the well-known Reliance family.
This e-commerce site is a one-stop shop for all Indian fashion enthusiasts. The global premiere of AJIO took place at the Lakme Fashion Week on April 1, 2016, and the company's headquarters are in Bangalore, Karnataka, India.
| | |
| --- | --- |
| Company Name | Ajio |
| Industry | E-commerce |
| Founded | 2016 |
| Parent Company | Reliance Retail Ventures Limited |
| Headquarters | Bangalore, Karnataka, India |
| Products | Clothing, Footwear, Accessories, and more |
| Services | Online fashion retail |
| Area served | India |
| Website | www.ajio.com |
One of Reliance Industries' first forays into e-commerce is Ajio. They introduced a variety of things when they launched the app, including clothes, shoes, and accessories.
The largest retail operation in India is reputedly owned by the Reliance group. Reliance Trends, a retail outlet that provides a variety of fashionable clothing for children, men, and women, is one of their most well-known brands.
The enormous success of this endeavor inspired the creation of this app. In addition to selling Indian clothing and goods bearing their own brands, they also have a sizable selection of items that adhere to current fashion trends that are sold all over the world.
Also Check Similar Posts:
Get the Deals
Ajio Upcoming Sales 2023
Ajio New Year Sale 2023
From 1st of Jan to 5th of Jan
It's the New Year of 2023, and Ajio has the hottest fashion items from premium international brands including GAP, Armani Exchange, Superdry, Crocs, Globaldesi, DNMX, Van Heusen, Puma, Levi's, UCB, Pantaloons, and many more.
You may choose from the widest selection of apparel and accessories from major brands during the Ajio New Year Sale, and you can save up to 70% on all of these items. Myntra sale is also giving you the maximum discount on top brands.
For your family or your loved ones, you can also buy a variety of ethnic wear, casual wear, footwear, trousers, jeans, dresses, shirts, and more. Enjoy the best shopping experience of the year and make sure to bring home your favorite garments from your favorite designers.
Expected Date – From 1st of Jan to 5th of Jan 2023.
Highlights of the 2023 Ajio New Year's Sale Offers
Traditional clothing from leading manufacturers up to 40% off
Flat 40-70% off of UCB clothing items
Top brands like Puma, GAS, U.S. Polo Assn., and Levi's must be discounted by at least 40% Off
The online shopping destination hosts the Ajio Clearance Sale almost every month where you can find the best fashion things at unheard-of prices, including clothing, footwear, bags, home décor, and more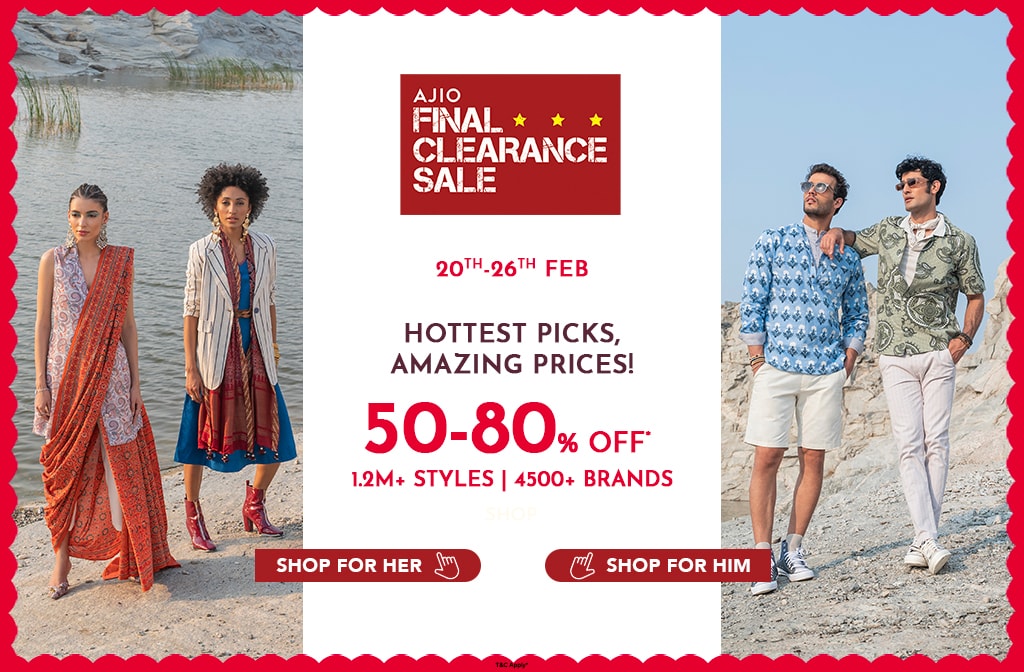 Customers can get top fashion items from premium brands during the Ajio Clearance Sale at a flat 60–80% discount, eliminating the need for them to wait for a particular event or another sale to buy for clothing.
During the Ajio Final Clearance Sale 2021, pick from a variety of items, including dresses, bags, footwear, kurtas, leggings, jeans, blazers, shirts, and more for everyone.
Ajio makes this the ideal occasion to buy your favorite clothing that has been sitting in your shopping cart for a while thanks to savings of up to 80% on the distinctive fashion trends.
Expected Date – Starts 1st July
Ajio Clearance Sale Highlights 2023
Up to 80% off of fashion items Cheapest prices ever for fashion accessories
Shoes: Flat 60-80% Off
Receive an additional 10% off SBI, ICICI, and Bank of Baroda credit and debit cards.
Don't allow your savings to run out; Ajio will assist you in doing the same. Take advantage of the Ajio Pay Day Sale to purchase the items you've been seeking.
You will have the opportunity to purchase goods during the sale at discounts ranging from 40 to 80%, plus additional reductions of 20%. Get the finest deals right away by checking out the sale!
Ajio Payday Sale Offers:
Discounts on men's clothes and footwear as well as up to 80% off traditional items
You can find fantastic savings during the Ajio Halloween Sale on every type of clothing requirement. Your requirements for clothing, footwear, and other items will be met by the approaching Ajio sale.
With this Ajio offer, shopping is something you don't need to think about twice. You may use
Expected Date –
Ajio Halloween Sale Offers:
Mad Deals on favorite brands with up to 70% off Trends products
Exclusive discounts on specials in Ajio
reduced-priced cosmetics
Ajio Diwali Sale 2023
1st November – 4th November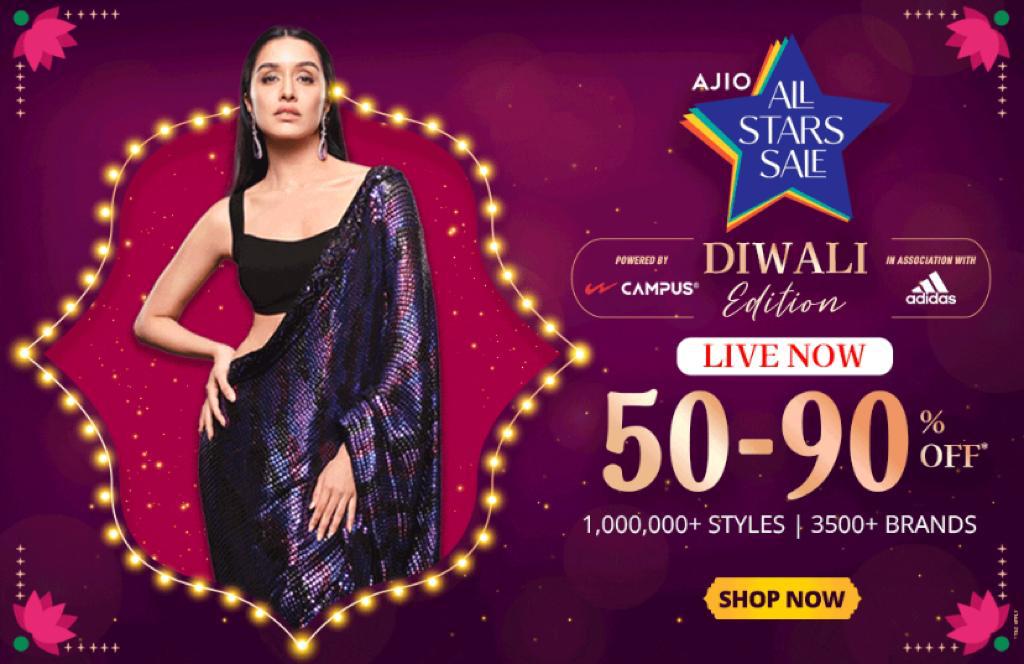 With the help of the Ajio Diwali Sale, illuminate your life while saving money. With its numerous offers, Ajio never fails to astound its customers. You only need to visit this Ajio deal in a timely manner. Get footwear and classics at unbelievable discounts and promotions. Look at this:
Expected Date – 1st November – 4th November
Ajio Diwali Sale Offer:
Up to 80% off Traditional Items Discounts on Shoes Offers on Cosmetics.
Ajio End Of Season Sale 2023
Beginning on June 20th
Join in on this End of Season Sale (EOSS) from Ajio to save your money. You have a fantastic opportunity to stock your carts with whatever you require at rock-bottom costs. Beginning on June 20th, the sale will be available online for 10 days. Why not now? To get everything you want at a great price right away, click the link below.
Expected Date – Beginning on June 20th
Ajio End Of Season Sale Offers;
T-shirts discounted by 30–40%.
50 to 90% discount on a few brands of goods.
Ajio Mania Sale 2023
Starts on 19th August 
Due to popular demand, your favorite online clothing retailer has brought back the Ajio Mania Sale, where you can browse for more than 3,000,000 designs at previously unheard-of, enticing discounts of up to 90% also with Meesho sale you the 90% discount on products.
Shop from a wide selection of fashion items from the best and most exclusive brands on the Ajio website and app to save a tonne of money.
With at least 50% Off on the most fashionable items in the fashion store, Ajio Mania Sale has further reduced the cost of online shopping.
Make the most of the Ajio Mania sale by taking advantage of the outrageous discounts and purchasing the most popular and in-demand fashion items on the market right now. Make a fashion statement by wearing top-notch clothing, shoes, and accessories, and let your look speak for itself.
Expected Date – Starts on 19th August
Ajio Manis Sale Highlights 2023
In all categories, discounts range from 50% to 90%.
Shoes, accessories, and more offers all up to 40% off.
Deals on high-end footwear brands like Puma, Red Tape, etc.
Minimum 50% off women's clothing.
Ajio Indie Days Sale 2023 
From Month October to November
The Ajio Indie handcrafted celebrates artisan and trendy clothing. This sale features the finest traditional crafts and fashions hand-selected for an artisan shop. Various sarees, kurtas, dresses, jewelry, blouses, bags & handbags, shoes, menswear, home décor, and dupattas, stoles & shawls are available for purchase.
The greatest textiles, such as ajrak, bagru, indigo, ikat, kalamkari, shibori, Malhotra, mangalgiri, and others, are used to make these products.
You may purchase the newest Indie fashion items at the greatest prices from Ajio during this Indie Sale 2023 without having to spend a sizable number of money. Choose from the widest selection of apparel and home décor created from the most elegant materials, put them in your cart, and you'll receive a minimum of 60% and a maximum of 80% off your purchase.
Ajio Indie Days 2023 will feature the best handprinted and embroidered fashion items for purchase.
Expected Date – From Month October to November 2023.
Highlights of the Ajio Indie Days Sale
Fashion and home décor items at flat discounts of 60 to 80%
Homegrown design handcrafted from top materials at significant savings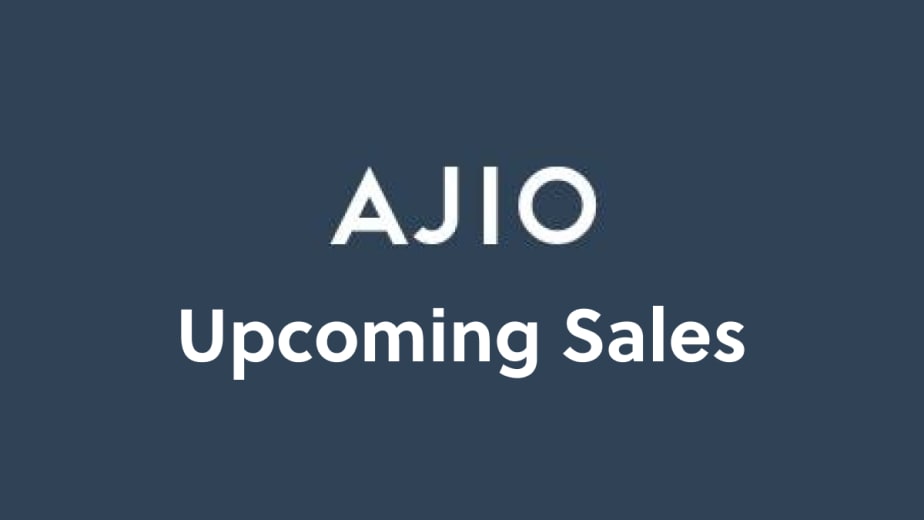 Ajio Big Bold Sale 2023
8th – 10th July 2023
Every fashion shopper anticipates the Ajo Big Bold Sale because of the countless deals and discounts it offers. It is one of the best Ajio sales.
The greatest time to buy the newest fashion trends is online, where you can get the latest apparel, accessories, and shoes that have been hand-selected from a large selection of options to make your purchase easy.
So stop making excuses or holding off on shopping till the next big sale and start taking advantage of Ajio Big Bold's upcoming sale offerings.
Expected Date – 8th – 10th July 2023
Ajio Big Bold Sale Highlights 2023
Women's and men's fashion designs and accessories are up to 80% off.
Clothing and footwear for men, kids, and women are up to 60% off.
Everybody, including males, can find a wide selection of fashionable goods from leading brands at Ajio.com.
For guys, Ajio offers a wide selection of clothing, bags, shoes, gym wear, belts, wallets, and more while also offering special discounts of up to 60% on all products. Shop for the best formal and casual clothing items, then rock your meetings and parties with the most fashionable look.
Men's Ajio Sale Highlights
Save up to 60% on casual clothing.
Discounts of flat 50% to 80% on various clothing brands.
Top brands' ethnic apparel is discounted by up to 60%.
One of the most well-liked online clothing retailers for ladies, Ajio provides a vast selection of clothing and accessories. A number of the biggest and most prestigious companies from around the globe, including BIBA, Vero Moda, Indie Picks, Janasya, Globaldesi, and others, have partnered with the online fashion retailer.
Show off your sense of style and save at least 50% on the newest and most distinctive fashion items from these and other companies. women can also save 50% OFF on cosmetic products from the Nykaa sale.
Highlights Of The Women's Ajio Sale Offers
Accessory deals for women up to 50% off
Up to 80% off the selection of sarees and outfits
Best-selling brands are discounted by up to 80%.
Ajio Sale Offers For Kids 
Ajio deals in delivering high-end fashion items for both adults and children. The one-stop fashion shop provides kids with the highest caliber apparel and footwear at the best prices.
The best fashion trends from international brands, including UFO, Pepe Jeans, Nautinati, Allen Solly Juniors, GAP Kids, Skechers, Crocs, and more, are available at up to 80% off. Dress up your kids in gorgeous style.
Highlights Of The Kids' Ajio Sale
Minimum 30% discount on stylish children's clothing
Shoes and clothing for children are discounted up to 80% on Ajio.
Save Money
Tips to save and shop on Ajio upcoming sale
Here are some suggestions to assist you in making purchases during the upcoming Ajio sale 2023. Making the most of your shopping binge will also enable you to receive the greatest offers and discounts.
1. Review the 2023 Ajio sale dates and make your shopping plans accordingly.
2. You must sign in to your Nykaa account in order to shop on the Ajio app.
3. Sales are the best time to purchase items because they offer the biggest discounts.
4. Whenever possible, try to avoid shopping for your favorite items at the last minute.
5. Before the sale starts, it's a good idea to add all of your desired items to your wish list or shopping cart and press the "buy" button.
Final words
Conclusion – Ajio Upcoming Sale and Offers 2023
The goal of Ajio as a business is to give clients the greatest possible purchasing experience. You can start making a list of the items you want to purchase when the next sale in Ajio takes place.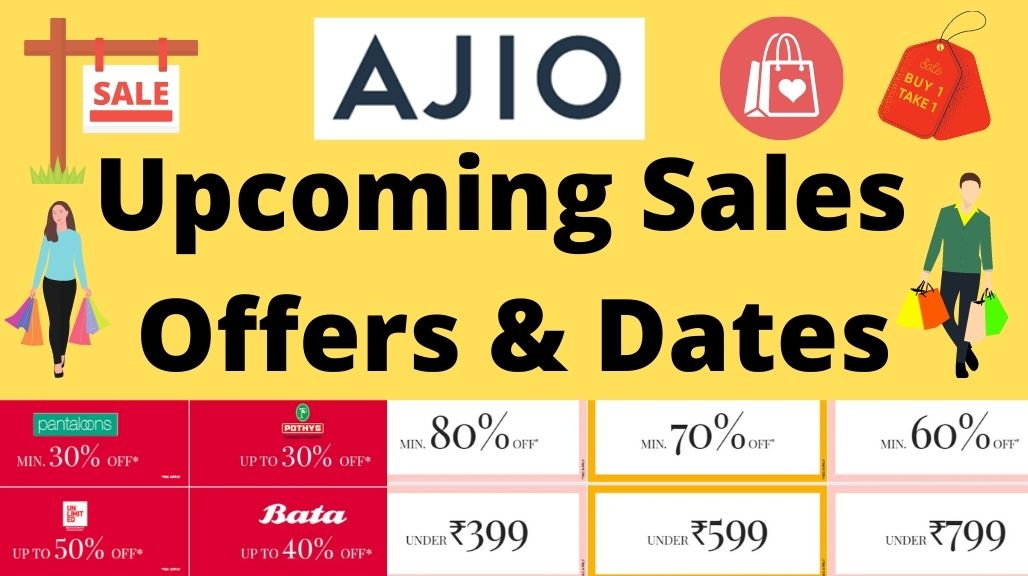 There are a variety of ways to find a great deal on your favorite pair of shoes or that outfit that has been saved to your wishlist or put in your bag but has never made it to the payment page. With all these offerings from various banks, they are becoming a reality rather than a pipe dream.
Use the discount codes to make a small saving so you can buy the clothing you were forced to give up because you went over budget.
With information on all the deals and discounts planned for the full year, get started right now and enjoy the enjoyable shopping experience that everyone dreams of. With the incentives onboard, it's closer than you might think to bringing out your inner fashionista.
Get your answer
FAQs – Ajio Offers and Sales 2023
Q1. What are Ajio's Upcoming Sales?
Ans. The following online shopping sales, including Mania Sale, Indie Days, Republic Day Sale, Big Bold Sale, and Valentine's Day, will be held in Ajio. 
Q2. When is the next sale on Ajio?
Ans. The next sale on Ajio is from 10th December which is the Ajio Big Bold Sale. It will continue till the 19th of December.
Q3. Are there any upcoming sales on Ajio this month?
Ans. Ajio Pay Day Sale is now happening. Keep your savings alive, and Ajio will assist you in doing the same. The Ajio Pay Day Sale offers you the chance to purchase the items you've been craving. You will have the opportunity to purchase items during the sale at discounts ranging from 40–80% and an additional 20%. Check out the deal and seize the finest bargains right away! 
Traditional items have discounts of over 80% 
Discounts on shirts for men 
Offers for Shoes
Q4. Where can I get a notification for Ajio's next sale?
Ans. You can the notification for upcoming sales from the official website or app Ajio.
Q5. How much discount do you get on upcoming sales?
Ans. You can get the following offers:
Discounts of 50-80% on 3500+ brands 
Offer on women's clothing 
Reduced prices on men's shoes 
Save 70% on conventional products
Q6. Should I wait for the next sale?
And. Yes, you can wait for the next sale but you can also buy premium products at low prices in the ongoing sale as well.