Start the ALT Balaji Free Subscription in 2023 in the following ways. Mentioned step-by-step methods to get an ALT Balaji subscription free for new and existing users.
Do you want to watch ALT Balaji content for free?
Then you are on the right page, In this page, we have shared all the possible methods to start the ALT Balaji free trial or the longest free subscription.
ALT Balaji is a subscription-based video-on-demand service that offers users online web series. The online series is produced by recognized producers, stars well-known actors, and is written by renowned writers.
In comparison to other services of a similar nature, the subscription service is also comparatively more affordable. What's more intriguing is that ALT Balaji is available to some customers free of charge.
Those who use the services of Vodafone, Airtel, and Jio in particular can benefit from free premium content. Enjoy watching all of the free movies, TV shows, and web series without having to purchase a subscription.
Summary of ALT Balaji Free Subscription:
| | |
| --- | --- |
| OTT Platform Name | ALT Balaji |
| Free Trial | Yes, For 30 Days |
| Ways for Free Subscription | 5 Methods |
| Top Perks | ALT Balaji Premium Account |
What is ALT Balaji Platform?
ALT Balaji is a completely owned subsidiary of Balaji Telefilms Ltd and an Indian subscription-based video-on-demand platform.
ALT Balaji, which debuted on April 16, 2017, is the Group's venture into the digital entertainment space to generate original OTT content. Around 34 million paid users use the platform. ALT Balaji viewers can access it using 32 distinct interfaces.
The content is now available on mobile and tablet devices (Apple phone, Apple iPad, Android phone, and Android tablet), as well as web browsers (Desktop Browser), Android TV, and Windows (Windows PC, Windows Mobile, Windows tablet).
According to their website, the platform is India's largest content bank. The stories span from drama to comedy to romance, as well as thrillers, crimes, and mysteries.
Benefits of an ALT Balaji Free Subscription
Watch on 5 devices and share with your family!
Even when there is no internet, you can download it whenever you want and view it later.
Watch every show whenever and wherever you want! Zero bounds!
Watch each program through to the end!
Total access to streaming in full HD
New programs every month
Also, Enjoy the benefits of Sun Nxt's free subscription.
ALT Balaji Premium Subscription Plans 2023
Each of the online streaming applications offers a subscription plan that we may use to access the offered shows and web series.
Because ALT Balaji has limited material, it is less expensive than other streaming applications such as Amazon Prime, Netflix, and Hotstar.
You may get a three-month subscription to ALT Balaji for Rs.100, a six-month subscription for Rs.180, and a one-year subscription for Rs.300. If you purchase this subscription plan with your Mobikwik wallet, you will receive 25% Supercash in your Mobikwik account.
If you don't wanna purchase it paid or First wants to go with the 7 Dyas Alt Balaji free trial, With Alt Balaji 7 days free trial you get everything.
Methods to get ALT Balaji Free Subscription 2023
The capability to download content from ALT Balaji for offline viewing is a feature that makes it very popular. To download your favorite TV series and movies, follow these instructions:
Open the movie or episode that you want to download after logging into your ALT Balaji account.
You will be taken to a variety of options when you select the 'Settings' option in the top right corner.
When you click "Download," you can select the desired quality.
The video will then start downloading and saving to your device.
Alt Balaji Subscription by AmazonPay 
A range of deals offers, and rebates on purchases are available on Amazon India. You can take advantage of these discounts to save money on your ALTBalaji Subscription.
For the membership or a three-month subscription to ALTBalaji at INR 50, you can receive a discount on Amazon of even more than INR 100. Additionally, you can take advantage of Amazon's rewards program to get a free ALTBalaji subscription.
To use an ALTBalaji Subscription free by Amazon coupon, follow these steps:
Launch the app or website for Amazon India
Access the Amazon payment page.
To access the coupons, select the Reward section.
Look up the entertainment category.
To access the ALTBalaji promo offer, scroll down.
Gather the coupon.
Navigate to the ALTBalaji Subscription page.
Choose a plan
Select Amazon Pay as your method of payment and pay the subscription fee.
The cashback will be credited to your Amazon Pay wallet.
Alt Balaji Free for Airtel TV Users
With Airtel TV Subscription, ALT Balaji Subscription also come, users can watch all the ALT Balaji TV shows on their Airtel TV.
Download the Airtel TV app to your device first.
Install & open the Airtel TV App after downloading.
Click on Airtel TV Login or Sign Up now.
Click the search bar after successfully logging into your account.
Find the web series or favorite show you want to watch on ALT Balaji by doing a search.
Yuppie! You have it, watch your favorite shows and tell your friends about them (Spread the Love).
Alt Balaji FREE Subscription with JIO Fiber
I'm assuming you already use JIO Sim.
Download the JIO Cinema App right away if you use JIO.
This app offers all of the ALT Balaji Original Series.
Watch your favorite series on JIO Cinema. It's also available for viewing on a computer or television.
Search for your favorite ALT Balaji Series via the JIO Cinema App.
Spread the love by watching.
Unless you have an Airtel, Vodafone, or JIO SIM. Then apply this strategy; I'm confident that it will enable you to access all of ALT Balaji's programs without charge.
Alt Balaji Subscription with JIO Cinema
For Jio SIM subscribers only, there is a platform for entertainment called JioCinema. The software only needs a sign-in from a Jio cell number and can be downloaded for free from the Play Store or App Store.
Once within the app, choose the 'Shows' button at the top, and then choose ALT Balaji from the list of channels. Although the entire content inventory may not be available, there are undoubtedly some popular ALT Balaji original films and web series that one may find there.
Use Flipkart SuperCoin for FREE ALT Balaji Subscription
Who doesn't like receiving a present after a successful shopping trip? One of the well-known websites for doing online purchases is Flipkart.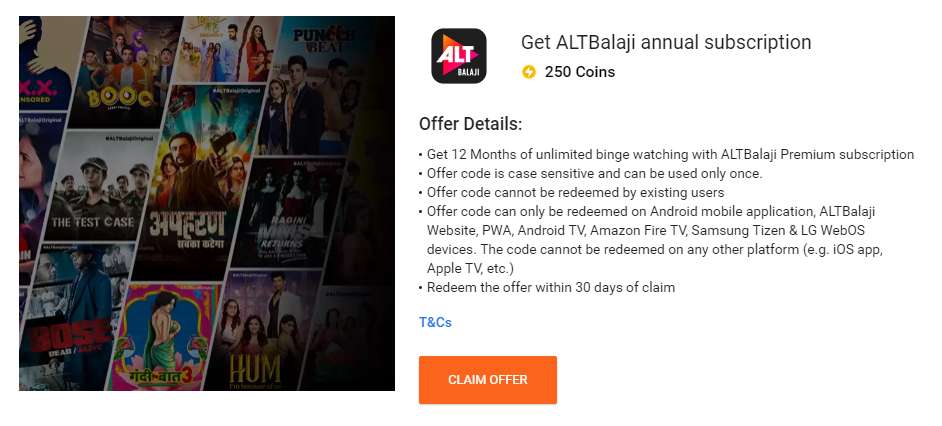 You receive bonuses in the form of super coins after each transaction. You can use these super coins to redeem a free trial of ALT Balaji. You can get a free 12-month ALT Balaji Subscription by using these amazing coins.
How to get a free subscription to Alt Balaji?
You will receive Super coins after making a purchase on Flipkart.
Amass 250 Flipkart Super coins.
View the Super coins redemption page.
ALTBalaji's free 12-month subscription is down below.
Click it.
Exchange 250 Flipkart Super Coins for a redemption voucher for a free 12-month Alt Balaji subscription once the redemption page is opened.
Launch the ALTBalaji app and register.
To subscribe to ALTBalaji Premium, click.
Enter the aforementioned promo code
Activate your ALTBalaji account's free premium.
You can access your other ALTBalaji ID to take advantage of an unrestricted, cost-free subscription.
ALT Balaji Subscription Offers and Deals
Get ALT Balaji free subscription Through coupons and promo codes, ALT Balaji occasionally provides excellent savings on its membership options. The current offers are listed below.
Use the promo code 'ALTGTXYA' to receive a discounted price of Rs 255 on the annual ALT Balaji subscription, valued at Rs 300. Grab the promotional code while you can because it might not be around forever.
Users of Rupay Cards qualify for a 10% discount on the annual ALT Balaji subscription plan, which costs Rs 300.
Key Differences Between OTT Platforms and ALT Balaji
1. Pricing Strategy: Balaji Telefilms decided to offer affordable pricing for its OTT platform. This is the main distinction between ALT Balaji and Other OTT Platforms. This drew users who thought Netflix and other high-end OTT providers were pricey.
2. Original Content: ALT Balaji has a huge and standout collection of original Indian series, which helps them attract a disproportionately high number of Indian subscribers.
3. User-Friendly Interface: There are 32 distinct interfaces you can use to access the platform, including those on cell phones, laptops, desktop computers, tablets, game consoles, and internet-enabled televisions!
4. Huge Content Library: ALT Balaji's content library also contains more than 100 hours of children's programming as well as urban regional shows in many other languages, including Hindi, Bengali, Marathi, Tamil, Punjabi, and many more.
Final Line – Free ALT Balaji Subscription and Trial 2023
A range of episodes, series, and movies can now be watched by subscribers of ALTBalaji both online and offline. A 7-day free trial is available, and you can end it at any moment.
You can also get the subscription charge waived by using Zee 5 discounts, Amazon promo codes, or Flipkart Super coins. Additionally, there are numerous promotions and discounts available for yearly subscriptions.
I hope you enjoyed reading about ALT Balaji Free Trial; please leave any feedback or suggestions in the section below.
FAQs – ALT Balaji Free Subscription and Trial
How can I view ALT Balaji on television?
There are two ways to access ALT Balaji television programming. You may do both by casting and by using the ALT Balaji app on your smart TV. Simply choose the video you want to watch and choose the "cast" option at the player's top to start casting from your mobile device. Check to see if your phone and TV are on the same Wi-Fi network.
The ALT Balaji app can be downloaded from the Play Store on your TV if you choose the smart TV option. After installation, launch it and log in using your credentials to feast on the extensive content library.
Can we get a free ALT Balaji stream?
Yes, you may enjoy a variety of shows with a free Alt Balaji membership in a number of ways:
Is it possible to watch ALT Balaji for free?
Use Flipkart Super Coins to get 1 Year Premium Coupon
Coupons on Amazon to get 3 months of free ALTBalaji Subscription 
ALT Balaji Premium account for Jio customers
ALT Balaji gets a free Zee5 subscription.
Can I watch ALT Balaji on television?
To watch ALT Balaji on TV, connect your mobile device and television to the same wireless network. Choose Chromecast from the Cast menu in the top right corner of the ALT Balaji app. With the 'Ready to Cast' option, you may now watch the content on TV.
Is it possible to download ALT Balaji's content? 
To download and watch any online material on the ALT Balaji app, go to the content details page and tap on Download. Now, select the download quality, and it will be saved in the app's Menu Downloads area.
Does ALTBalaji have a viewing cap (number of hours, frequency)?
There are no restrictions on watching free content. Paid videos, on the other hand, are subject to the validity of the membership. When the validity time expires, you must renew your membership to continue streaming content.